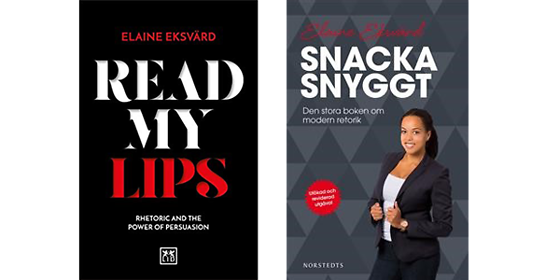 Read my lips - rhetoric and the power of persuasion
What if you could get people to listen to you in every situation? And in addition, get them to want to listen? Would that make life easier? Rhetoric is not the art of speaking - it is the art of getting others to listen.
This book does not deal with the history of rhetoric - nor is it a book that teaches you how to "talk nicely" - as many people might think when they hear the word "rhetoric". This book will teach you to speak effectively and increase the motivation of your listeners; how to be professional and personal, without being private.
The author shares her own experiences and suggests, with humor and warmth, how to tackle difficult situations.
Here is a glimpse of our Key-Note speaker Elaine Eksvärd. As one of the most respected communication advisors and lecturers we are very exciting to listen and meet Elaine at Customer Loyalty Conference.
Don't miss the chance directly after the conference to purchase the book (Swedish or English version) and get it signed by Elaine.