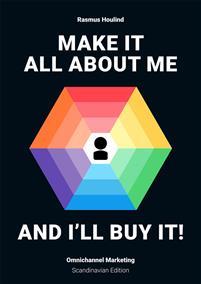 Make it all about me, and I´ll buy it
This book is a suggestion of how to work with omnichannel without getting stuck in working in a channel and silo-oriented way. On the basis of the experience and input of over 50 specialists from the Danish business community, as well as the latest articles and literature in the field, this book offers you the Omnichannel Hexagon, a model that provides a framework for targeting your marketing efforts and ensuring that every step you take is a step closer to the perfectly tailored customer experience - without sacrificing profitability.
Apart from being Chief Strategy Officer in the marketing automation software company Agillic, Rasmus Houlind is the de facto thought leader on omnichannel in the Nordics. In his session at Customer Loyalty Conference he will take you through the points he discovered while writing his best selling book "Make it all about me!".
At the conference you can talk more with Rasmus at Open Space and/ or buy his book.